Treasure Coast's #1 BBQ Grill Cleaning
From cleaning to repairs we take care of it all
So you never have to worry about a thing
#1 Trusted BBQ Grill Cleaning in The Treasure Coast and The Palm Beaches
Let us handle all your BBQ grill cleaning Needs
Treasure Coast Grill Cleaning is based out of Stuart Fl. We offer a Professional BBQ grill cleaning service which includes BBQ grill repair and Outdoor Kitchen Design and Installation on the Treasure Coast & in the Palm Beaches.  Cleaning your BBQ grill is a dirty chore and no one enjoys doing it, wiping down the outside and brushing the grates on the inside never truly get it clean. However, you can trust the services from Treasure Coast Grill Cleaning to give it a Professional cleaning, making it look as good as new. Here at Treasure Coast Grill Cleaning we excel at cleaning BBQ Grills but also specialize at cleaning ovens, hoods and stainless steel appliances. We do the dirty work for you so you can enjoy your well earned free time. Our goal is simply to provide the very best customer service for all your BBQ grill needs.
BBQ Grill Cleaning Services
have never been easier to take advantage of!
Once you contact our company, our team will answer all your questions and provide a quote in just a few minutes. We offer the best prices in the area and value customer satisfaction from the beginning of our interaction. We will always be available to answer your concerns and help you make the best choice.
We offer a flexible schedule because we understand that you have a busy lifestyle. Our Treasure Coast Grill Cleaning team is going to work together alongside you on finding the best day and time for our work to be completed. You pick a day and time, we'll be there.
One of the greatest benefits of our service is that you won't have to do anything. There is no need to buy tools and do some research on the best cleaning products because our BBQ grill cleaning team will handle everything for you, and the only thing you have to do is sit back and relax.
Treasure Coast BBQ Grill Repair
is your #1 trusted Professional BBQ Grill Repair Service in The Treasure Coast Tap The Images To Learn More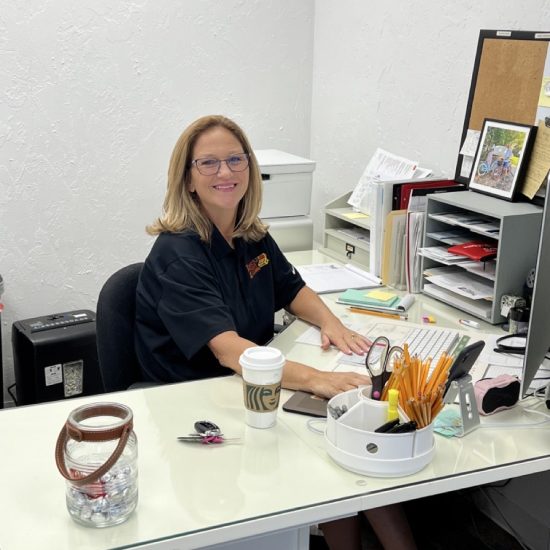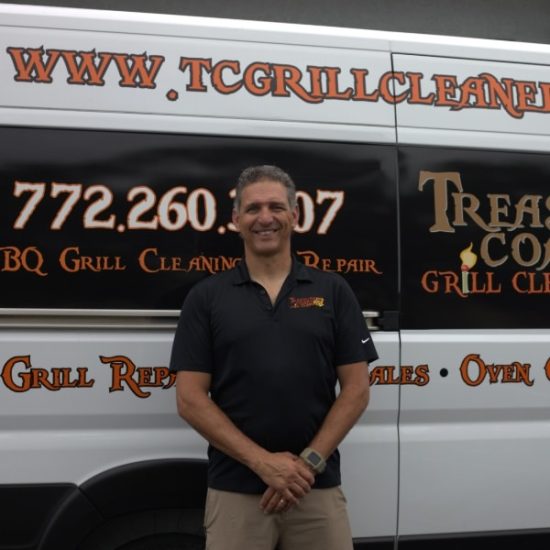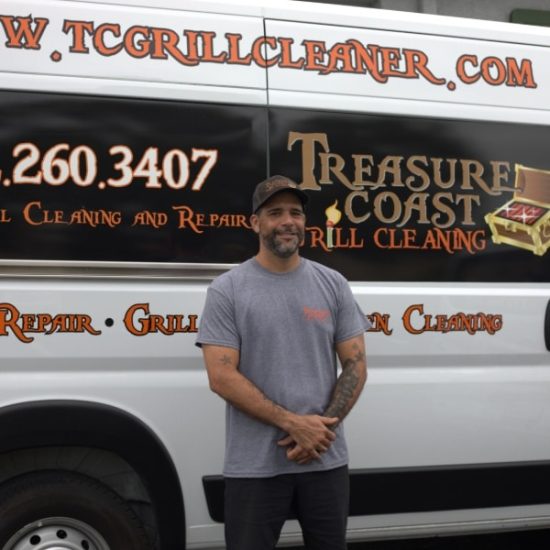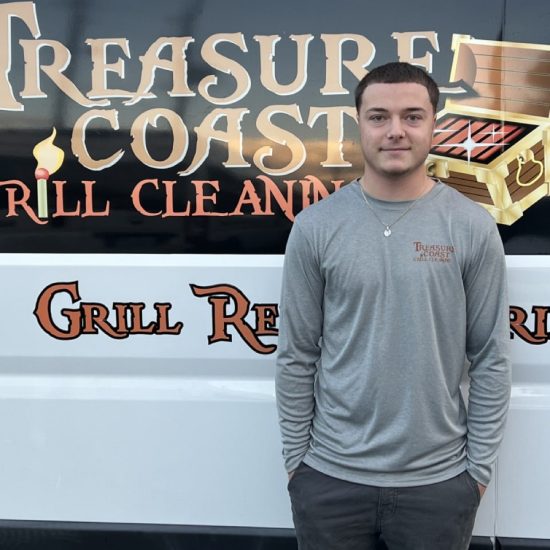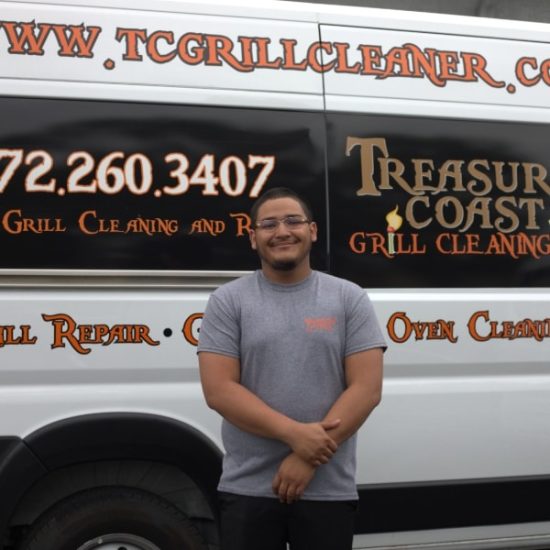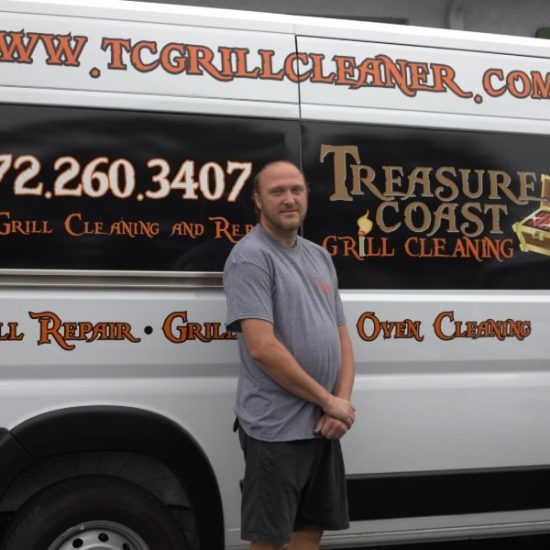 Our Team Members
Your BBQ Grill Cleaners
Our friendly and professional team of BBQ grill cleaners have many years of experience in the field and use cleaning techniques that are guaranteed to bring even the dirtiest BBQ grills up to an impressive standard. We have had many satisfied clients and your BBQ grill could be our next success! We know the importance of delivering a good customer experience and so, not only do we offer an excellent cleaning service but we also ensure that we are always on hand to answer your questions and concerns. What's more, our team are approachable and respectful. If your grill is looking less than perfect, Treasure Coast Grill Cleaning is sure to make it sparkle once again, whilst keeping in mind that you will reap the many benefits that come alongside a clean such as improved safety and a longer life for your grill.
Hey Florida Did You Hear What
Your Neighbors Were Saying About Us?
BBQ Grill Cleaning in The Treasure Coast & The Palm Beaches
Chris took on a formidable task today. Our new old home has an outdoor kitchen and the condition of the grill had me pretty bummed. Thank goodness Google led me to Treasure Coast Grill Cleaning. We are now looking forward to our first outdoor cooking experience on a sparkling clean BBQ grill!!
BBQ Grill Repair The Treasure Coast & The Palm Beaches
My Lenox grill had some age on it and was not performing well. Not only did they do a great grill cleaning job for every detail of the grill, but they also diagnosed the issues. They have ordered the parts needed and I will finalize this review when the parts come in and they finish details.
Oven Cleaning in The Treasure Coast & The Palm Beaches
I use my grill several times a week so it gets a good work out over time. Chris and his crew do an amazing BBQ grill cleaning job. Both the grill and the hood- they actually look like new when they're done. I have them come by twice a year and they do a super job and I recommend them without any reservation.
Let us Fully Care For Your BBQ Grill With Affordable pricing
Benefits Of Teaming With Treasure Coast Grill Cleaning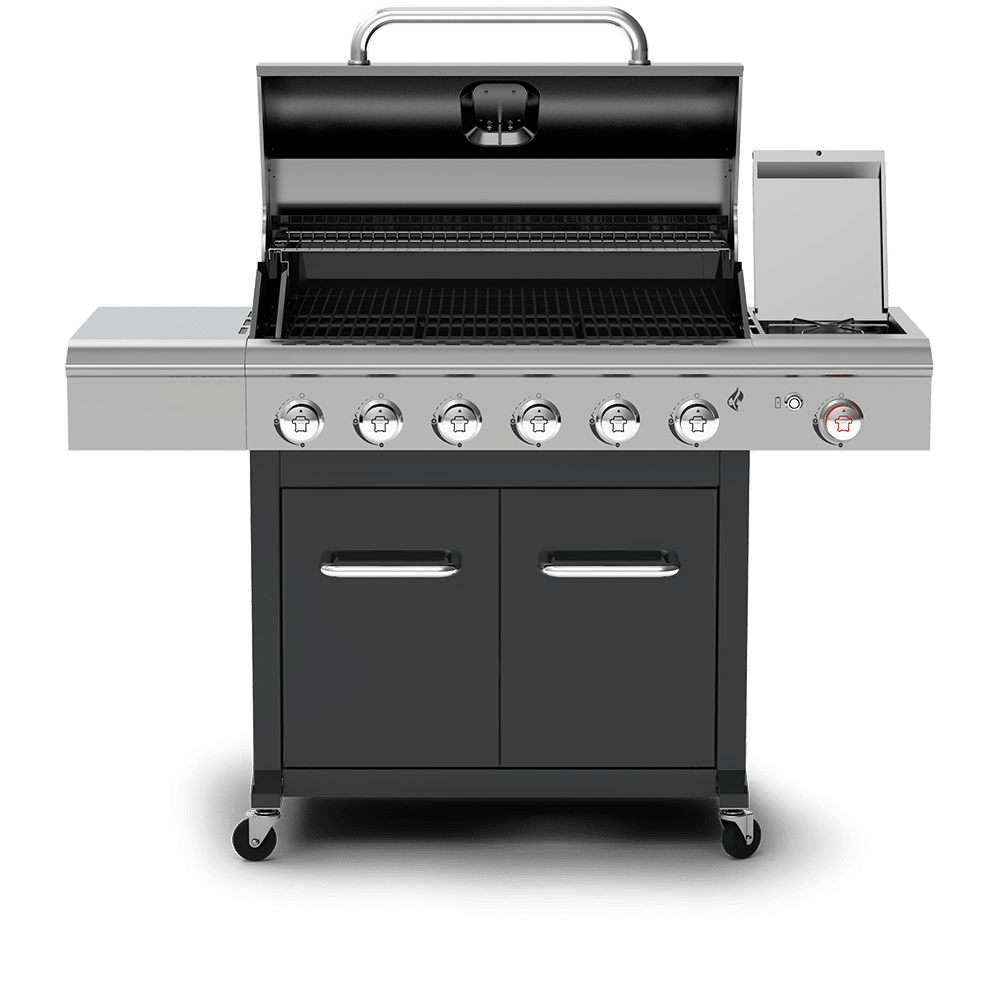 Book Your BBQ Grill CLeaning Now